Remote access software is such a tool which let you instantly set up and work remotely from anywhere of the world. It is very useful to do work when you are away from desire device. You don't need to be present or nobody has to ensure your access.TeamViewer brings unattended access with a range of features. Also, it comes with a great level of security, cross-platform compatibility which is beneficial for both your customers and business. As TeamViewer unattended access allows to provide technical support remotely, it is a nice tool for IT and technical support specialist and service provider. Besides, you will get access just in a single click with right permission.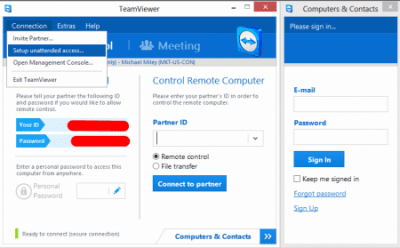 Setup TeamViewer unattended access
If you don't have TeamViewer software, first of all, you need to download and install it to set up unattended access. The software is free for non-commercial use. You can use the free version to remotely access computers.
Download your desired version of TeamViewer for your device. Teamviewer is available for many platforms like mobile, Windows, Mac, and Linus. Once the software is downloaded, then install it.
Click the Connection tab from the left top of the software. Then, select Setup unattended access. Type your computer name so that you can easily recognize when you will add more computer to the TeamViewer. To protect the remote connection set a strong password.
If you have not signed in to TeamViewer yet, it will ask you to create a new account. You can create a new account.
TeamViewer provides you a unique  ID if you don't create an account. You need to save the ID to access the computer remotely.
Install TeamViewer on the computer that you want to access. Then, enter the ID into the Connect field which you saved earlier and give the password. You will be connected to the remote device.
If you create an account on TeamViewer, it will add a computer to the device list. You need to sign in to the TeamViewer of the remote device and double-click on its name to access it remotely.
If you click on Grant easy access option, you don't need to type the password every time to connect with the remote computer.
TeamViewer unattended access let you manage and control the devices from any locations. The control, access, and maintenance of all the devices such as smartphones, computer, public displays will be at fingertips. So, you can provide better and reliable services to your client and customer using unattended remote access. Also, you don't need to worry about your security because the TeamViewer team is very concern about TeamViewer safety and security. When set up unattended access assign all the devices to avoid wrong person getting access.