Many people, who are using Skype, complain that Skype video call not working properly or Skype has no video. There are many reasons for Skype video call not working such as it might be the problem with your webcam or the person whom you are calling. I have listed some common causes of this problem.
Skype is a communication tool, which becomes an essential part of our daily life. It allows you to do thing together whenever you are apart from your friends, family or colleagues. Also, makes simple to share videos, audios or text messaging. In addition, you can do anything want to do together like, celebrate the birthday, call a meeting, make a chat, learn something, group work and many more.
Skype video call not working, why?
Do you have a problem with Skype video call? For example, call dropping, poor quality, delay, no video, freezing etc. Then, try the following ways to solve the problem.
1. Use skype latest version
Usually, Skype always improves their call quality in the latest version to provide users best performances. So, both of you and whom you are calling should use the latest version of Skype to get best video quality.
2. Check your Skype configuration
After updating, if still remains video problem, checking video setting of Skype.  It might be a great idea to be sure that you have configured Skype properly.
Open Skype. Go to "Tools and Options" > "Video Setting". If you see the setting of the image, there is still the problem. Because your Skype is not configured that's why it is unable to recognize the webcam that you have installed.
You need to start up the software which comes with your webcam and switch webcam on to use it. Make sure that your webcam is turned on. Then restart the Skype so that it recognizes the active webcam. Webcam video is now displaying. But, your task has not completed yet. You need to go "preference screen".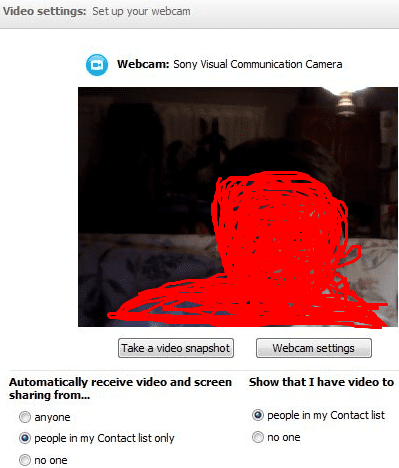 You should check two settings under the webcam video. "Automatically receive video and screen sharing from…" is set to "anyone" or "people in my contact list only". If you set "no one", you will not receive video from your friends or others.
Similarly, "Show that I have video to" set to "people in my contact list".
3. Check webcam
If you use a USB webcam, use a different USB port plugging it. You should directly plug into the computer if you use a USB hub.
4. Check your internet connection
If freeze your video call or motion blur, the problem might your or your friend's internet connection. Skype decrease the quality while it detects weak or slow internet connection to stop call dropping.
Computer: If you are using a computer, directly plug your internet connection into router or modem. Try to go closer to your router, if you use Wi-Fi for internet connection.
Mobile: Test your internet speed using a speed test app and check both upload and download speed.
5. Are you hidden?
Check whether "Stop my video" is selected or not. Your video stream will remain blank if you select this. Similarly, if your friend video stream remains blank like yours, ask him to fix it. Just right-click on blank windows and check settings.
6. Check whether other applications are interfering with video call
Close the applications that might interfere with the video call. Streaming video, downloading large files or videos, uploading, file sharing applications etc. can eat up your bandwidth.
More than hundreds millions of people are using Skype worldwide. Fix your problem with Skype video call not working and enjoy its awesome features to chat and communicate with your friends and family.